News
Because of Covid-19 my photography business has been in state of suspended animation since March 2020. It seems however that we are on track to emerge from the pandemic. Luckily I was able to keep shooting. A recent commission to shoot a project completed by Merrion Contracting got me back working on a lovely Architecture job. The photo below was taken in a beautiful Georgian structure which was completely refurbished by Merrion Contracting to a design by a London based Architect. The interior is delightful and certainly made my job more interesting.
A positive side effect of the lockdown was that it gave me time to revisit my interest in more abstract technical matters. The zone system, developed by Ansel Adams, was something I always wanted to incorporate into my practice. By using the zone system I revived my interest in carefully measuring the light that is so fundamental to all photography. The reliance on camera technology to solve an equation in terms of exposure never satisfied my desire for accuracy and the zone system provides just that.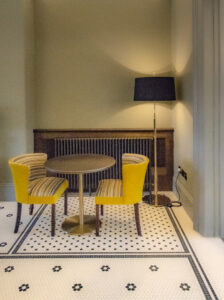 Merrion Contracting. Georgian structure refurbishment and fit-out.[/caption]
Exhibitions and workshops
Zoom talk 'An eye for detail'
Recently I co-hosted a zoom talk on behalf of the RHSI (Royal Horticultural Society Ireland). During the talk I reviewed my work and a few images of some other well known foreign photographers. I used examples to explain what makes a good photograph -in my opinion- and I explained how I judge garden and flower images. The talk had great attendance. The talk was free for all RHSI members. See www.rhsi.ie
The talk has been recorded by the RHSI. If you are interested in becoming a member of the RHSI then please go to their website above.
For more information: call 087 989 2939 or send me an email: CONTACT