News
Autumn 2019
With Autumn now firmly underway I can look back at a very productive and busy summer. Various commissions and workshops enabled me to expand my portfolio with new and interesting gardens. During our summer holiday in France I visited some very impressive French gardens together with my partner Fionnuala. Jardin Agapanthe in Normandy would easily rival anything I have seen at home since I started in this business. Jardin Agapanthe stood out because of its exceptional design and planting. This garden is a must see if you ever happen to visit that part of France.
In the Spring of this year I did a whistle-stop photography tour of all the gardens in the Waterford Garden trail together with Kristin Jameson from Tourin House & Gardens. Among those I photographed were Lismore Castle & Gardens, Mount Congreve, Dromana House and Gardens and Cappoquin House & Gardens. I got some decent shots of Narcissi, Magnolias, Azaleas and Cherry Blossom. I was very fortunate to meet some of the owners who kindly took time to show me around their gardens. Later this summer I was commissioned to photograph the Mornington Garden in Dalkey, a fine example of a beautiful garden in an urban setting. I also kept busy with further work for a Dutch company, http://www.floweryourplace.com who are active throughout Ireland with a variety of impressive planting projects that enhance the urban landscape around cities and towns in Ireland.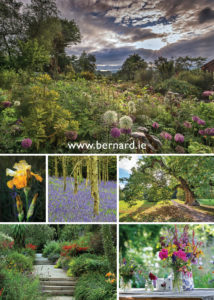 Knockrose exhibition space with work by Fionnuala Broughan
Exhibitions and workshops
The launch of Jimi Blake's book "A beautiful obsession" took place in the Garden Museum in London on the 29th of October 2019. It was a great occasion and it was followed by Jimi's talk! The book received critical acclaim in the press in Ireland and abroad. Gardens Illustrated wrote a very positive review and published one of my images. filbertpress.com and http://www.huntingbrook.com Jimi's garden is now closed, but will open again in April 2020. Jimi's book can be bought directly from Jimi or in most Irish bookstores across the country.