News
Waterford County offers plenty of scope for garden and flower photography. I discover new subjects daily as I explore my new surroundings. The county has a wealth of beautiful estates, gardens, woodland, mountains and wildlife.
The Lismore Castle Gardens have become a regular feature when I am not busy with a commission. The Castle gardens have an abundance of trees, shrubs and herbaceous borders. I am fortunate to have such a beautiful garden at walking distance.
The Royal Horticulture Society of Ireland recently published the below greeting cards. The images for the cards were taken by me and a fellow photographer.
On the 6th of October 2022 I was invited by the Kenmare and District Garden Club to give a talk about garden and flower photography. It was a lovely evening altogether and it was great to meet the club members and to get such lovely feedback afterwards. TESTIMONIALS
Workshops
The next round of workshops will be planned for 2023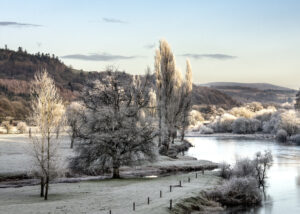 Winter in Lismore, Co. Waterford. The trees and landscape sugarcoated with overnight's frost.
Out and about with my trusted analogue Hasselblad. There's something magical about a large viewfinder, the square format and the sound of the mechanical shutter. Music to my ears. Back to guessing what it will look like. Deferred gratification in other words. This is also one of those rare occasions where I am the subject and blissfully unaware of the other photographer in the house.
For more information: call 087 989 2939 or send me an email: CONTACT