News
Several images taken over the last few months of Blarney Castle have been incorporated in the signage around the Castle. Adam Whitbourn and his team have created something very special. Their gardens and the Arboretum are among the best in Ireland and a 'must see' if you are a garden aficionado and if you love trees.
Recently I was invited by the Clonmel Camera Club to give a talk. It was an altogether very enjoyable evening with good attendance. I hope to see some of the members back next summer when I start my next series of workshops in Tourin House & Gardens.
On my Twitter feed and/or Instagram you can see regular postings and news. Click buttons below to see more.
Finally, I am pleased to say that I have been admitted as a full member of the English Garden Media Guild and the Professional Garden Photographers association. The Guild represents many well known and established Garden photographers in England, Ireland and further afield. gardenmediaguild.co.uk  / professionalgardenphotographers.com
Workshops and publications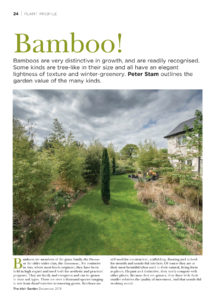 The Irish Garden Magazine recently published an article about Peter Stam's Bamboo nursery. All the photographs in the article were taken by me over a number of years. I photographed Peter's garden as well as the nursery. I am delighted on Peter's behalf that his nursery has been given due credit and it's great to see my work published. stambamboo.com
Noel Kingsbury and Jimi Blake are currently writing a book about Hunting Brook. The coffee table book will feature a lot of my the images. Publication by Filbert Press is scheduled for September 2019. filbertpress.com
Recently the OPW (Office of Public Works) published "Living Legacies" about Ireland's National Historic Properties in the care of OPW. This publication includes some images of Kilmacurragh in Co.Wicklow and the JFK Arboretum in Co. Wexford.
The leaflet below will soon go out to promote my garden photography business around Ireland. Beautifully designed by Jane Stark janestark.net
I intend to start a new series of photography workshops in the Spring of 2019. Details will be posted here and on social media.
To book a workshop and/or talk: call 087 989 29 39 or send me an email: CONTACT